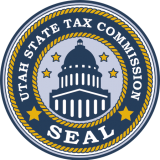 DIVISION OF MOTOR VEHICLES
UTAH STATE TAX COMMISSION
Juneteenth Holiday
All DMV and other Tax Commission offices will close on Monday, June 20, 2022 in observance of the Juneteenth holiday.
Registration Decal Shortage
The Division of Motor Vehicles has recently experienced a shortage of registration decals. This shortage has resulted in delays in providing a decal for some vehicles at the time of registration. If you have renewed the registration of your vehicle, but have not yet received a registration decal, please be assured that your renewal is reflected in law enforcement databases.
As decal inventory becomes available, decals will be mailed to the mailing address on file with the Division of Motor Vehicles. Once you receive a decal, please verify that the decal serial number matches what is printed on your registration document and affix the decal to the licence plate of the vehicle as soon as possible.
If you have renewed your registration but have not received a decal within 14 days of your renewal, please contact the Division of Motor Vehicles.