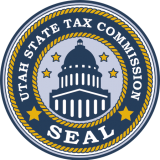 DIVISION OF MOTOR VEHICLES
UTAH STATE TAX COMMISSION
Personalized License Plate Orders
Due to an upgrade in plate manufacturing equipment, personalized plate orders may take up to 12 weeks to receive the license plates in the mail.
Registration Decal Shortage
Due to a shortage of registration decals, your decal delivery may be delayed, but your vehicle renewal is still reflected in law enforcement databases.
Once you receive a decal, please verify that the decal serial number matches what is printed on your registration document and affix the decal to the licence plate of the vehicle as soon as possible.
If you have renewed your registration but have not received a decal within 14 days of your renewal, please contact the Division of Motor Vehicles.