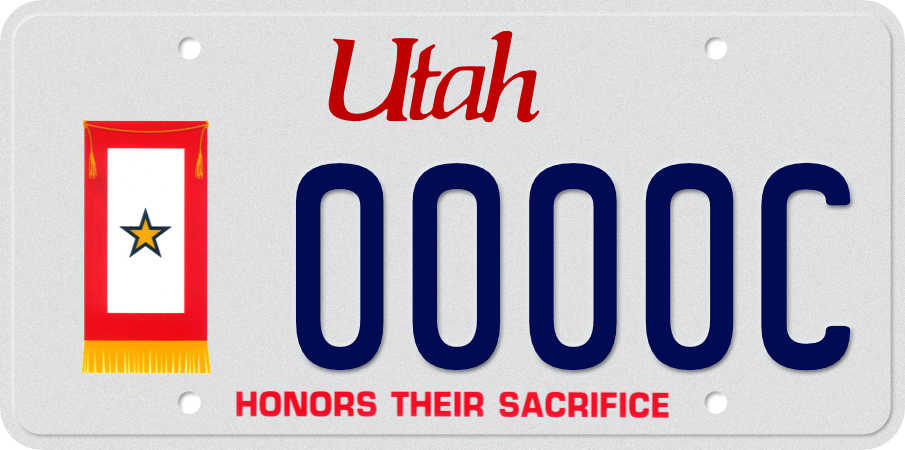 About This Plate
Honor Special Group
This plate honors the family of a member of the military who is killed while serving in the United States armed forces. The applicant must be a recipient of the Gold Star award, issued by the U.S. Secretary of Defense. This plate may be personalized with up to 5 alphanumeric characters, or up to 4 for motorcycles, by submitting TC-817, Application for Personalized and Replacement License Plates with the required personalization fee.
Requirements
One of the following documents:

Document showing classification of death as listed by the U.S. Secretary of Defense
Casualty report
Telegram from the U.S. Secretary of Defense
Other document that verifies the applicant is a recipient of the Gold Star award

$17 Special Plate Fee
No Annual Contribution
$4 Postage and Handling
Obtaining this Plate
This is a centrally distributed license plate. It may be ordered at any DMV office and will be mailed from the Utah State Tax Commission.
To obtain this plate by mail, please submit a copy of your current registration, any documentation required for the special plate, a check that includes the cost of the special plate and donation fee, plus $4.00 for postage to:
Utah State Tax Commission
Motor Vehicle Division
P.O. Box 30412
Salt Lake City, UT 84130
For express services (FedEx, UPS, etc.), use zip code 84116
For more information, please call 801-297-7780 or 1-800-DMV-UTAH (800-368-8824).