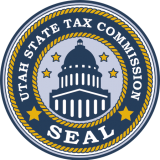 DIVISION OF MOTOR VEHICLES
UTAH STATE TAX COMMISSION
Off-Highway License Plates
In accordance with HB 180, the first-time registration or renewal of an ATV after January 01, 2023, requires the issuance of a license plate. This is a new plate with a tan background and black lettering. The plate is required to be displayed on ATVs; off-highway motorcycles and snowmobiles are exempt from this requirement.
ID Required for Registration
Remember: The DMV can't process a new vehicle registration without a valid government-issued ID (UCA §41-1a-210.5).